charlie's top 10 albums of 2011
hey folks — charlie here. as the year winds down, some of the staff here at GSBeats would like to share our favorite albums of 2011 with you, with hopes that if you missed anything, you can catch it here and find it before 2011 is over. as GSBeats resident hip-hop aficionado, my list skews that way, but that's not to say I didn't hear a lot of other great stuff this year — the original list of albums I felt I'd listened to enough this year to consider was over 100 albums, and this here represents my ten favorite.
before I get deep into it, I have to apologize and say that there were a couple albums that I know could have made it, and were either close or I just didn't give their proper due to be considered. so if your favorite record isn't listed below, it may just be at the the honorable mentions at the bottom — and if it's not, let me know and I'd love to check it out.
without further ado, my top ten favorite albums of 2011 — click read more; each album can be opened in spotify or soundcloud by clicking the album cover.
if you'd like to listen to a select track from each album (in countdown order), hit this player and let it run — otherwise, individual tracks are listed below each:
10. drake - take care
admittedly, I was initially down on this album. loved the first single, headlines — four of my favorite opening bars of any track this year — but then I got the album, and he starts off with a solid of 8 minutes of mellowed out r&b. not my cup of tea, but then from track 3 on, this album's pretty solid. drake's storytelling ability has definitely stepped up since 'thank me later,' and his ability to capture mixed feelings towards fame and relationships kept me listening to this album since its release.
recommended track: underground kings
9. mac miller - blue slide park
for people paying attention to hip-hop this year, at some point this year, you probably heard mac miller's name dropped, and didn't stop hearing about it. I first heard him summer 2010, featured on a mixtape, and after hearing KIDS and seeing some videos, had a good feeling about him.
after getting on XXL's freshman list, doing tracks with Talib Kweli, Freeway, and UGK, and getting a million twitter followers and the number one album in the country, it's awesome to see how a 19-year-old kid from Pittsburgh made himself into one of the top up-and-coming hip hop artists. while I prefer KIDS and Best Day Ever to his album, Blue Slide Park, the album is a great intro to him. if you don't know him, I recommend you start YouTubing his stuff right now — his videos will make you want to run around Pittsburgh with him and his friends. 
recommended track: missed calls
8. jay-z & kanye - watch the throne
one of the most hyped albums in recent memory, Watch the Throne couldn't possibly live up to the hype. People's take on the album comes down largely to what they expected — if you thought it'd be the sum of My Beautiful Dark Twisted Fantasy and Blueprint III, you were bound to be disappointed. But if you looked at it with intrigue about what would happen if you locked two of the world's biggest hip hop artists in a room (or hotel suites in LA and southern France), it's a good album.
personally, I wish every track featured Frank Ocean, as his appearances on No Church in the Wild and Made in America were two of the highest points on the album. I still don't know what the deal is with the weird interlude at the end of No Church and Welcome to the Jungle, and I learned about a lot of designers and artists that I had no idea existed (and I get to ask all my friends that get new clothes, "what's that jacket, margiela?!"). Watch the Throne wasn't perfect, but it wasn't a dud either — the fact that people are still talking about it and so polarized on it is a pretty good sign that it was one of the year's most significant releases.
recommended track: no church in the wild 
7. hoodie allen - leap year
I'm a fan of Hoodie — he's managed to stay independent, book a nationwide headlining tour, and it looks like he's having an awesome time doing it. also, he's genuinely a cool guy — we overlapped at Google together briefly and played a show together in San Francisco for 826 Valencia, and he's one of the hardest working people in music that I've met. I dug his last mixtape, Pep Rally, and this mixtape is a huge step up: tight lyrics, well chosen samples, and you leave the record feeling like you have a good idea of who he is and how the last year has changed his life. Check out the record, and check out a show — he puts on an awesome one every time.
recommended track: song for an actress
6. das racist - relax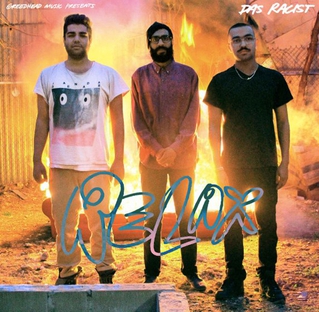 these guys are probably the weirdest hip hop artists I've ever heard, and they describe themselves as "a white guilt art project/science experiment/ponzi scheme. Our goal is to make a million American dollars." they had two awesome mixtapes before this album, and I listened to this record every day for the month after it came . their backgrounds are Wesleyan, by way of Queens and Oakland, and they reference everything from race relations to carmen san diego to the ernest movies. if it sounds weird, that's because it is — but in a really awesome way.
recommended track: rainbow in the dark
5. foster the people - torches
the gsb was all over this band from really early on, and next thing you know they played coachella with just an EP out, sold a couple hundred thousand records, and were playing on SNL. this record is a lot more than just pumped up kicks, and is one of my favorites of the year — feel-good music to drive or party to, and every hook on this album can get stuck in your head all day after one listen.
recommended track: helena beat
4. bon iver - bon iver
after moving to the woods of wisconsin, living alone, and penning one of the most introverted, beautiful albums in recent memory with 'for emma, forever ago,' the least likely thing for justin vernon to do would probably be becoming a close collaborator with Kanye and smoking buddies with Rick Ross . but, that's exactly what happened, and somehow through it all, he recorded a spectacular, self-titled follow up at the same wisconsin studio in the woods. it feels like a true album, and it's hard to take a single track off of it and put it on a mixtape without feeling like losing the context is taking away a big part of the song, and so I recommend a full listen while laying on your bedroom floor to best enjoy this album.
recommended track: perth
3. say hi - um, uh oh
say hi never fails to disappoint, and this album was no exception. I imagine eric elbogen recording these songs in his bedroom with a guitar, keyboard, and LPs and scribbled notes stacked high on a desk and littering the floor. I have no idea if that's how he actually does it, but it's a nice image to conjure when listening to his stuff.
from the opening track, where he discusses the first tour they went one, playing their first record from start to finish, and a woman in his band asking 'is this all it's going to be?' and him not knowing, you feel a sense of empathy for him then and pride for him now, as he's on his seventh album and continuing to tour. really great lo-fi pop songs that are the perfect soundtrack for a california drive.
recommended track: the trees are a swayin'
2. the weeknd - house of balloons
the weeknd literally came out of nowhere. near the beginning of the year, a couple songs showed up online with little attribution and no bio, name, or story behind them. as blogs started posting them and the mystery gained more attention, hype began building and the 9-track house of balloons, and before long it got linked to the 21-year-old toronto-native.
it's hard to describe the album's style, but it's clearly dripping with introspection, sex, and drugs. the feel of the album is so intimate that you almost feel voyeuristic listening to it, as if you intercepted an album intended as a private communication with someone else. great late night music, the album is one that I'll still be listening to in five years.
recommended track: wicked games
1. childish gambino - camp
ever since I first heard donald glover's EP, I've been raving about childish gambino to anyone that will listen. great punchlines, inventive beats, and creative lyrical themes made camp my favorite release of 2011. he takes the listener on a journey that covers what it was like growing up, feeling like an outsider, and self-discovery in spite of what people expect from him. he's able to project confidence while still engendering empathy as he describes life growing up and defining himself in a world where he was never really accepted by either side, and even still, outlining his flaws and personal failings on record.
he strikes a balance between serious topics and being funny, and from front to back, this record is awesome. have been listening to it non-stop since its release, and I recommend you do the same — it's my top album of 2011. 
recommended track: sunrise
honorable mentions:
adele - 21
m83 - hurry up, we're dreaming
blink-182 - neighborhoods
astronautalis - this is our science
lil wayne - tha carter IV
frank ocean - nostalgia:ultra
asap rocky - live.love.asap
tyler, the creator - goblin
oh land - oh land
capital cities - ep
pusha t - fear of god II
cheers/hugs/swag,